Chesatochi Newsletter #05 - Discover Defibox, Sushi, and Idle
Love of Crypto & Coffee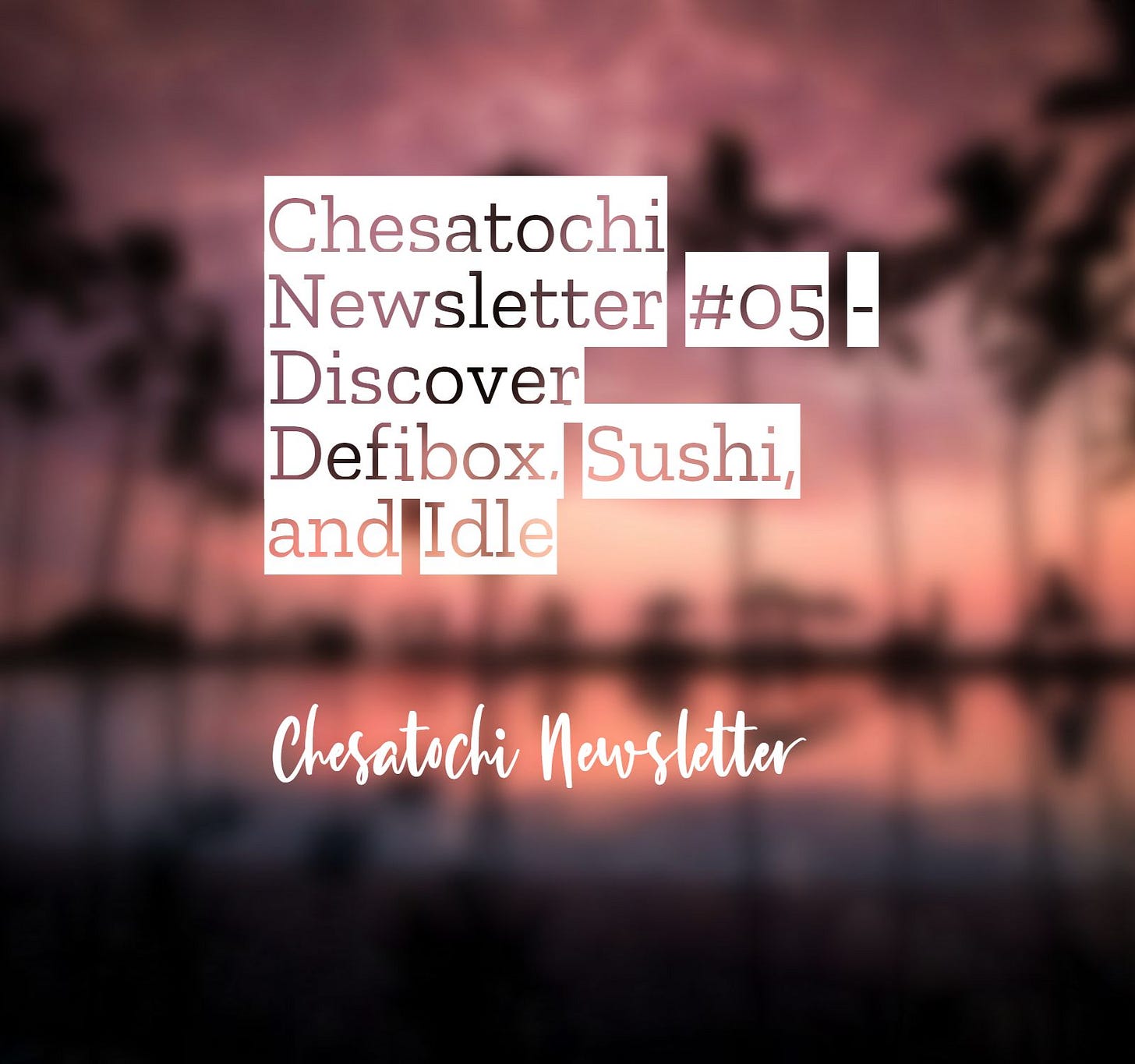 Hello, Lovers of Crypto & Coffee,
Introduction
Another great week and DeFi continue to take the spotlights in the crypto sphere. Each day we see another coin that hypes the price to the moon and brings the concept of fear of missing out.
But you never what? It is exciting, and this motivates me to produce my crypto contents because I love to learn.
Always have an open mind and be ready to learn. Chesatochi
What is Defibox?
A set of DAPPS that provide DeFi elements to the EOS ecosystem. Basically, they copy the best of Ethereum and try to bring it into their realm.
At least is cool for people who don't want to pay high gas fees and be part of the DeFi revolution.
Always look for a PLAN B and ready to try new things. Chesatochi
CC99 - Defibox - Decentralized Finance on EOS
What is Sushi?
I love eating Sushi at least once in a while in an excellent restaurant for the taste and experience. Now you can do the same in the crypto sphere and mine Sushi instead and choose your custom package.
A big hype around Sushi this week!
Always something exciting to discover in the crypto market. Chesatochi
CC106 - How to Yield Farming the Sushi Token on SushiSwap
Discover Idle DAPP
The majority are too busy with activities of life like family, school, work, and so on. How can you invest to get the most yield possible without the need to constantly tracking it?
The answer is using Idle DAPP that yields the best DeFi investment and rebalance automatically when need it.
It is cool to have a robot that yields farm for you and saves your valuable time. Chesatochi.
CC97 - Idle DAPP - Get the Best Yield Automatically
Conclusion
It is fun to discover opportunities that can impact your life and bring your wealth into your life. Open your mind and don't be scared to try new things in the realm of this awesome space we call crypto.
Chesatochi - Love of Crypto & Coffee